Fresh Fruit:
Apricot
Yellow and white peaches
Nectarine
Peacharine
Plum (red and yellow varieties)
Quince
Persimmons and pomegranates
 Dried Fruit (lightly sulphured)
Peaches
Apricot
Nectarine
Plum
Mixed Fruit packs available.
Dried fruit is available in bulk or in 200gm packets.
Sulphur Free Dried Fruit (preservative free)   Demeter Certified  Biodynamic

Produced in our 'Logisolar' Solar Fruit Dryer
Apricot
Peach
Nectarine
Plum
Quince
Quince leather
Mixed fruit packs available
Dried fruit is available in bulk or in 100gm and 200gm packets
Jams
 Apricot, plum, fig, quince, citrus marmalade
 Quince jelly and quince paste
Chutneys
Peach
Quince
Tomato
Cauliflower, zucchini
Sauces
Products are available Farm Gate, as well as from the Wirrabara Craft House and from our stall at the Wirrabara Producers Market, on the third Sunday of every month 8.30am to 12.00 noon
We have a good range of dried fruit on hand, at bulk and packaged prices, and can send orders by Post Packs.
Please contact us for price and availability.
Taralee Orchards Beef
We run a small herd of organically raised beef cattle on our grazing areas. Cattle are butchered locally, and selections of beef cuts  are  available from us for purchase.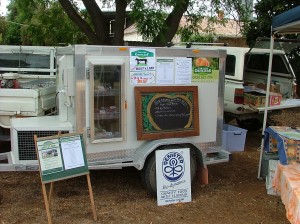 Our mobile coolroom at the Wirrabara Producers          Market

Contact Details:
Paul Kretschmer
mobile: 0428 827 774
email: info@taralee.com.au